Luzern, 1983. 27 x 35 cm, 2 vols, 31, 80 pp. Stunning 6-color halftone of the 14-page "composing" score in its original loose bifolio format issued on the occasion of the centennial of the composer's death. This exquisitely subtle work for just thirteen players (2 vln, vla, vc, bass, fl, 2 cl, bsn, 2 hn, tpt) was composed for and presented to Cosima along with an original poem of two strophes on her 33rd birthday on 25 Dec. 1870.
Siefried Idyll was an intensely private matter (Wagner had originally intended calling it Triebschener Idyll after the name of their villa) and was never intended to see publication nor to be heard in public performance; it was thus a great blow when financial difficulties in 1877 forced Richard and Cosima to sell the work to Schott, who published it the following year.
Preface by Wolfgang Wagner, notes on the corrections and changes in the MS by Ernst-Hans Beer. Essays by Carl Dahlhaus, Peter Wapnewski & Michael Riedler.
Includes full-page portraits, photographs of the Wagner house, studio, map of Lucerne, & musical examples.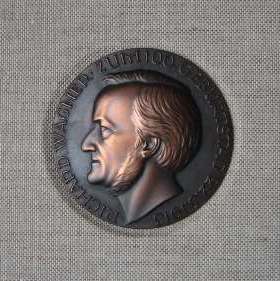 The Edition: René Coeckelberghs, Luzern. 999 copies printed on fine watermarked art paper. Bound in full leather with raised bands; composer's handwriting embossed in gold on the covers of both volumes; slipcase covered in linen with fine bronze medallion—
6.5 cm in diameter—
of the composer . $795