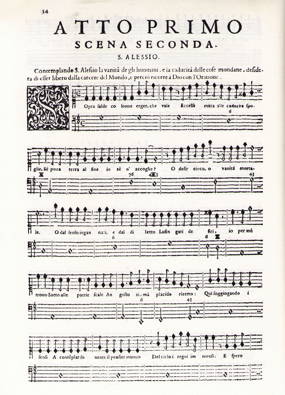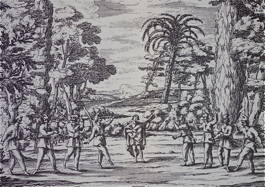 1587-1639

Stefano Landi

Il S. Alessio, dramma musicale
_______________________________________
Bibliotheca Musica Bononiensis, IV/11
Bologna, 2/2003
25 x 35 cm, vi, 187 pp

_______________________________________
Line-cut of the Rome, 1634 edition. This opera, in 3 acts, the earliest based on a historical subject, was produced during the pontificate of Urban VIII (Maffeo Barberini) in the theater of the grand palace built by the Barberini family in Rome. The outstanding libretto is by Giulio Rospigliosi who later became Pope Clement IX. The musical language of Il Sant'Alessio is similar to the music of Monteverdi and the work is typical of the counter-reformation in its artistic strategy of seducing the ears and eyes of the audience to bind it more closely to the Catholic church. Originally all the female roles would have been sung by castrati as women where not allowed to perform on stage within the Papal states.

Beautifully printed, the score came with impressive foldouts (woodcut engravings) that illustate the the staging.
Preface in It by Arnaldo Morelli. Wrappers.
$98
OMI - Old Manuscripts & Incunabula
PO Box 6019 FDR Station
New York NY 10150
tel/fax 212/ 758-1946 •
http://www.omifacsimiles.com
immels
@
earthlink.net