Imago Musicae XX 2003. International Yearbook of Musical Iconography.


LIM Editrice: Lucca, 2003. 8º, 209 pp. [88-7096-352-7]
Cloth. $128



Articles:


Björn R. Tammen
Musik, Bild und Text in der Wenzelsbibel

Vincenzo Borghetti
Il manoscritto, la messa, il giovane imperatore. La messa « Fors seulement» di Pipelare e la politica imperiale della Casa d'Austria

Thomas Tolley
"Exemplary patience": Haydn, Hoppner and Mrs Jordan



Reviews:


Hans Seidel
JOACHIM BRAUN, Die Musikkultur Altisraels/Palästinas. Studien zu archäologischen, schriftlichen und vergleichenden Quellen. Freiburg (Schweiz): 1999.

Tilman Seebaß
Dons des Muses. Musique et danse dans la Grèce ancienne. Musées royaux d'Art et d'Histoire - Musée du Cinquantenaire Bruxelles / Bpv~ÉUES 26.02.-25.05.2003 [Exhibition Catalogue]. Athens: 2003.

Thomas H. Carpenter
DANIELA CASTALDO, Il Pantheon musicale. Iconografia nella ceramica attica tra VI e IV secolo. Ravenna: 2000.


Thomas J. Mathiesen
ANNA DI GIGLIO, Strumenti delle Muse: Lineamenti di organologia greca. Bari: 2000.

Wolfgang Augustyn
ISABELLE MARCHESIN, L'image organum. La représentation de la musique dans les psautiers médiévaux, 800-1200. Turnhout: 2000.



Björn R. Tammen
WALTER SALMEN, Spielfrauen im Mittelalter. Hildesheim-Zürich-New York: 2000.


Björn R. Tammen
PATRICK TRÖSTER, Das Alta-Ensemble und seine Instrumente von der Spätgotik bis zur Hochrenaissance (1300-1550). Eine musikikonografische Studie. Tübingen: 2001.


Konrad J. Eberlein
BJÖRN R. TAMMEN, Musik und Bild im Chorraum mittelalterlicher Kirchen 1100-1500. Berlin: 2000.


Tilman Seebaß
Colori della Musica. Dipinti, strumenti e concerti tra Cinquecento
e Seicento. A cura di Annalisa Bini, Claudio Strinati und Rossella Vodret. [Ausstellungskatalog] Roma und Siena. Milano: 2000.
Dipingere la musica. Musik in der Malerei des 16. und 17. Jahrhunderts. Bearb. von Silvia Ferino-Pagden. [Ausstellungskatalog] Wien, Palais Harrach, 4. April bis 1. Juli 2001. Milano: 2001.

Lynn Matluck Brooks
SARAH R. COHEN, Art, dance, and the body in French culture of the Ancien Régime. Chicago: 2001.

Ulrike Kienzle
Die Welt als große Sinfonie: Mikalojus Konstantinas Ciurlionis(1875-1911). Katalogbuch zur Ausstellung im Wallraf-Richartz-MuseumKöln, 20. Juni bis 30. August 1998. Hrsg. von RAINER BUDDE. Köln: 1998.

Rainer Gstrein
JUDY BLAKE, Le tumulte noir: modernist art and popular entertainment in jazz-age Paris, 1900-1930. University Park (MD): 1999.

Tilman Seebaß
BONNIE C. WADE, Imaging sound.• an ethnomusicologicalstudy of music, art, and culture in Mughal India. Chicago etc.: 1998.

Steven G. Nelson:
MAGDA KYROVA et al., The ear catches the eye. Music in Japanese prints. Leiden: 2000.



Announcements:
Liebeskunst. Liebeslust und Liebesleid in der Weltkunst. Zürich, Museum Rietberg, Herbst 2002 - April 2003. [Ausstellungskatalog]. Zürich: 2002.

H. COLIN SLIM, Painting Music in the Sixteenth Century: Essays in Iconography. Aldershot etc.: 2002.

KARIN SIDÉN, ed., Musiken i konsten. Det klinganda 1600-talet. En konstbok fràn Nationalmuseum. Stockholm: 2001.

FRANCESCA ZANNONI, ed., Il far musica, la scenografia, le feste. Scritti sull'iconografìa musicale. Roma: 2002.

(view other volumes from this series)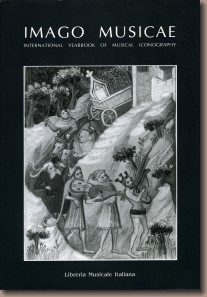 Available by subscription or single copy:
OMI - Old Manuscripts & Incunabula
PO Box 6019 FDR Station New York, NY 10150

tel/fax (212) 758-1946
www.omifacsimiles.com
immels@earthlink.net