Haydn, Franz Joseph, 1732-1809

Hornkonzert D-Dur, Hob. VIId:3
Faksimile der autographen Partitur. Kommentar von Ingrid Fuchs.

[Gesellschaft der Musikfreunde, Vienna]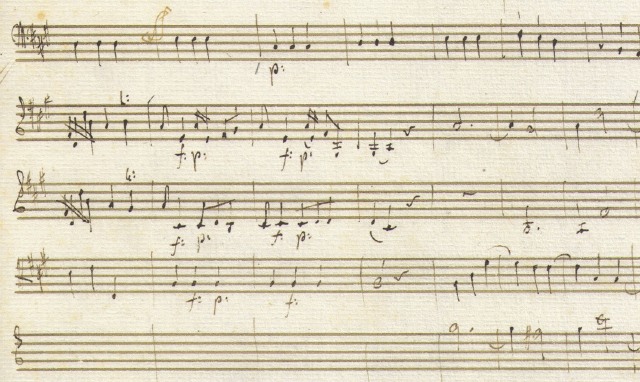 detail of the MS

Vienna, 2009. 22 x 32 cm, 28, 39 pp. A fascinating and important representative of Haydn's entire concerto œuvre comes to light in this brilliant facsimile of the Horn Concerto in D Major, Hob. VIId:3. Haydn composed a relatively small group of wind concertos (6 in total), two which are lost. This work was most likely composed for the horn virtuoso Joseph Leutgeb, and in violation of his contract with the Esterházy House, since it was not written for the court orchestra. Of special mention is Haydn's note written on the last page of the score stating "

in schlaff geschrieben

" (written while asleep). This is due to a mistake in the scoring of the instruments and was most likely the result of Haydn composing secretly at night, half asleep. Commentary in German-English-Japanese. Limited edition of 500 copies with beautiful period design coverboards and pasted on etikette. $207.