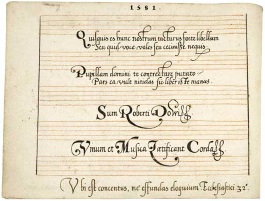 | | |
| --- | --- |
| William Byrd | Robert Parsons |
Sole US/Canada representative
:



OMI - Old Manuscripts & Incunabula



PO Box 6019 FDR Station


New York NY 10150




tel/fax 212/ 758-1946



http://www.omifacsimiles.com


immels

@

earthlink.net
(view other renaissance facsimiles
Deluxe Color Facsimile

The Dow Partbooks

Oxford, Christ Church, MSS 984-988
_______________________________________
The Dow Partbookss
Christ Church Oxford, MSS 984-988
Facsimile Edition. Introductory
Study by John Milsom.
Diamm Publications: Oxford, 2010
Oblong format: 19.4 x 14.2 cm
5 partbooks, 960 pp; 150 pp (commentary)

List of contents
_______________________________________
A full-color facsimile edition of Oxford, Christ Church, MSS 984-988, written in the beautiful calligraphic hand of Robert Dow, a 16th-c. fellow of All Souls, Oxford, from whom the manuscript gets its name. These partbooks—discantus, medius, altus, tenor, bassus—are a major source of music by William Byrd, Robert White, Robert Parsons, Alfonso Ferrabosco, John Shepherd, Thomas Tallis, William Mundy, Christopher Tye, Orlandus Lassus, John Taverner, Richard Farrant, and Peter Phillips. Much of the best loved music by William Byrd, Robert Parsons, and Robert White in particular is found in this manuscript, especially pieces such as Byrd's "Ne irascaris", Parsons' "Ave Maria" and "O bone Jesu", and White's Lamentations setting for five voices. Many of the works are equally appropriate for viol consort as for vocal ensemble, and the superb presentation of the text and condition of the books makes this an ideal source from which to play and sing. With comprehensive indices and concordance list.
Wrappers, with slipcase.
$399

(UK and European customers should direct their inquiries to the publisher)