Biblia de León
Biblia Visigótica Mozárabe: Codex Biblicus Legionensis, año 960:
The Visigothic-Mozarabic Bible: Codex Biblicus Legionensis, A.D. 960.
Complete facsimile reproduction of MS n.2 preserved in the Archivo Capitular de la Real Colegiata de San Isidoro de León.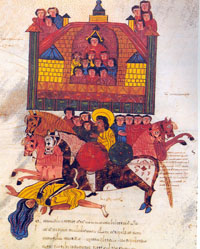 The facsimile: 1,028 pages, in the original format 34.5 x 48.5 cm; limited edition of 600 copies p
rinted on special Italian-made paper and bound in full leather with silver bosses. Deluxe wooden box with padded interior.
A joint production of Fundación Hullera Vasco-Leonesa, Universidad de León & Ediciones Lancia (shipping weight: 40 KG)
Euro 9,000. Please call for special OMI price.




OMI - Old Manuscripts & Incunabula




PO Box 6019 FDR Station New York NY 10150




tel/fax 212/ 758-1946




http://www.omifacsimiles.com • immels

@

earthlink.net