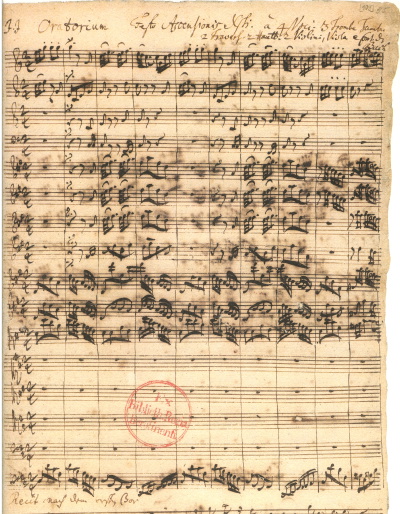 Stuttgart, 2007. 22 x 32 cm, viii, 34 pp. 4-color facsimile of the elegant autograph score, reproduced in the original loose bi-folio format.
The Ascension Day Oratorio's
f
estive orchestration calls for solo SATB, SATB chorus, 3 trumpets, timpani, flutes, oboes, violins, viola, & bc.
Although it was
first performed on May 19, 1735 for Ascension Day,
according to indications in the autograph it is actually a copy of the score of the composer's inauguration piece of 1732 (or name-day cantata of 1733) with new underlayed text.
The work bears striking similarities
with the Christmas Oratorio (BWV 248), completed only six months earlier
. Introduction in Ger-Eng-Fr. Issued on the occasion of the 100th anniversary of the founding of the Bachhaus Eisenach Museum of the Neue Bachgesellschaft. Portfolio. $106



see our complete listing of Bach Facsimiles
Deluxe Color Facsimile

J.S. Bach
Himmelfahrtsoratorium

Ascension Day Oratorio

"Lobet Gott in seinen Reichen"
BWV 11
_________________________________________
Himmelfahrtsoratorium ["Lobet Gott in seinen Reichen"]. Oratorio Festo Ascensionis Christi BWV 11. Faksimile nach dem Partiturautograph der Staatsbibliothek zu Berlin Preußischer Kulturbesitz. Mit Einführungen von Martin Petzold und Peter Wollny. Festgabe anlässlich des Jubiläums 100 Jahre Bachhaus Eisenach Museum der Neuen Bachgesellschaft e.V.

_________________________________________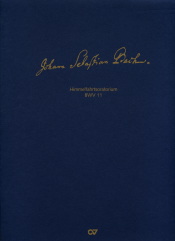 distributed by
:
OMI -Old Manuscripts & Incunabula
PO Box 6019 FDR Station
New York NY 10150
tel/fax 212/ 758-1946
http://www.omifacsimiles.com • immels

@

earthlink.net